---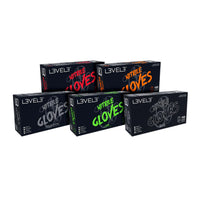 NITRILE GLOVES | BARBER GLOVES
Level 3 Professional Nitrile Gloves are perfect for hair styling, hair cutting, coloring, perming and all your hair and beauty needs. Gloves are made out of a synthetic rubber, and are an ideal alternative when latex allergies are of concern. Nitrile gloves are the superior glove when it comes to puncture resistance. This professional gloves provide great flexibility and mobility. 
Silver/Red: 0.4mm thickness | Black/Lime: 0.35mm thickness | Orange: 0.5mm thickness


Nitrile Gloves features:
Touch screen compatible
Puncture resistant
Powder and latex free
PVC free - Ideal for food handling
Chemical resistant
Mold to hand for a great fit
Ambidextrous
Great flexibility and mobility
Available Colors: Black, Lime Green, Red-ish, Orange, and Liquid Metal.
Quantity: Box contains 100 gloves (By weight).
Directions: After use carefully remove the glove to avoid contamination risk and discard product appropriately. 
Storage recommendations: Store in a cool dry place. Avoid excessive heat (40 °C / 104 °F).
Available Sizes: Small, medium, large and extra large.
Glove Sizing Chart
Measure your palm width horizontally as shown in the below picture to find out which glove size will fit you better.
Why barber and hairstylist use nitrile gloves?
Nitrile gloves are made from synthetic rubber and often referred to as "medical grade." Nitrile gloves mold to your hand for a superior fit and they are comfortable for wearing for extended periods of time. They will protect you and your client from puncture resistance better than any other type of glove. Available in different colors, like blue, red, or pink you can easily see if they happen to get a puncture in them. Nitrile is perfect for use with color and perms as they are resistant to most chemicals. The shelf life of Nitrile gloves is long, and there is no worry about allergies