---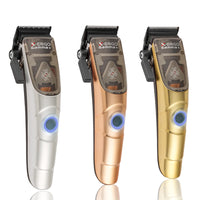 Sale
NEW 9V MOTOR! The Most Ergonomic, Fastest and Quietest Clipper The Gamma+ Ergo features the latest in magnetic motor technology.
This turbo charged long-life magnetic motor runs at 10,000 strokes per minute + INCREASED Microchip for torque and power. Not only does this offer the ultimate in speed, power and longevity but the quietest performance of any professional clipper
Perfectly Balanced Modular Ergonomic Design
The first-ever fully modular Ergo clipper includes Gold, Rose Gold, and Chrome body kits to create different custom modifications. Assembled on the Ergo is a transparent thumb rest to observe the fastest and quietest motor in action. Engineered to be perfectly balanced in your hand, the Ergo features a click taper for the most consistent results.
Black Diamond 45mm Taper Blade Fully adjustable blade can be easily zero gapped for the closest cut and finish. Highest quality Black Diamond Carbon DLC blade stays cooler, rust-free, and sharper longer.
Click Lever & 120 Minute Run Time
With a click lever taper and lithium-ion battery featuring 120 minutes of run-time - a new standard has been set. 105 min rapid charge!
Modular Clipper with Magnetic Guards
The Ergo is the first-ever modular clipper and includes 3 additional housings with interchangeable thumb rests, and magnetic guards right out of the box. The distinguished shape is tailored to fit ergonomically in your hand with ideal positioning for your wrist, elbow, and shoulder.
Includes: 1 year warranty, charging stand, 5 guards, 3 lids, transparent thumb rest, cleaning kit. Mini screwdriver for blade regulation and custom body modifications.